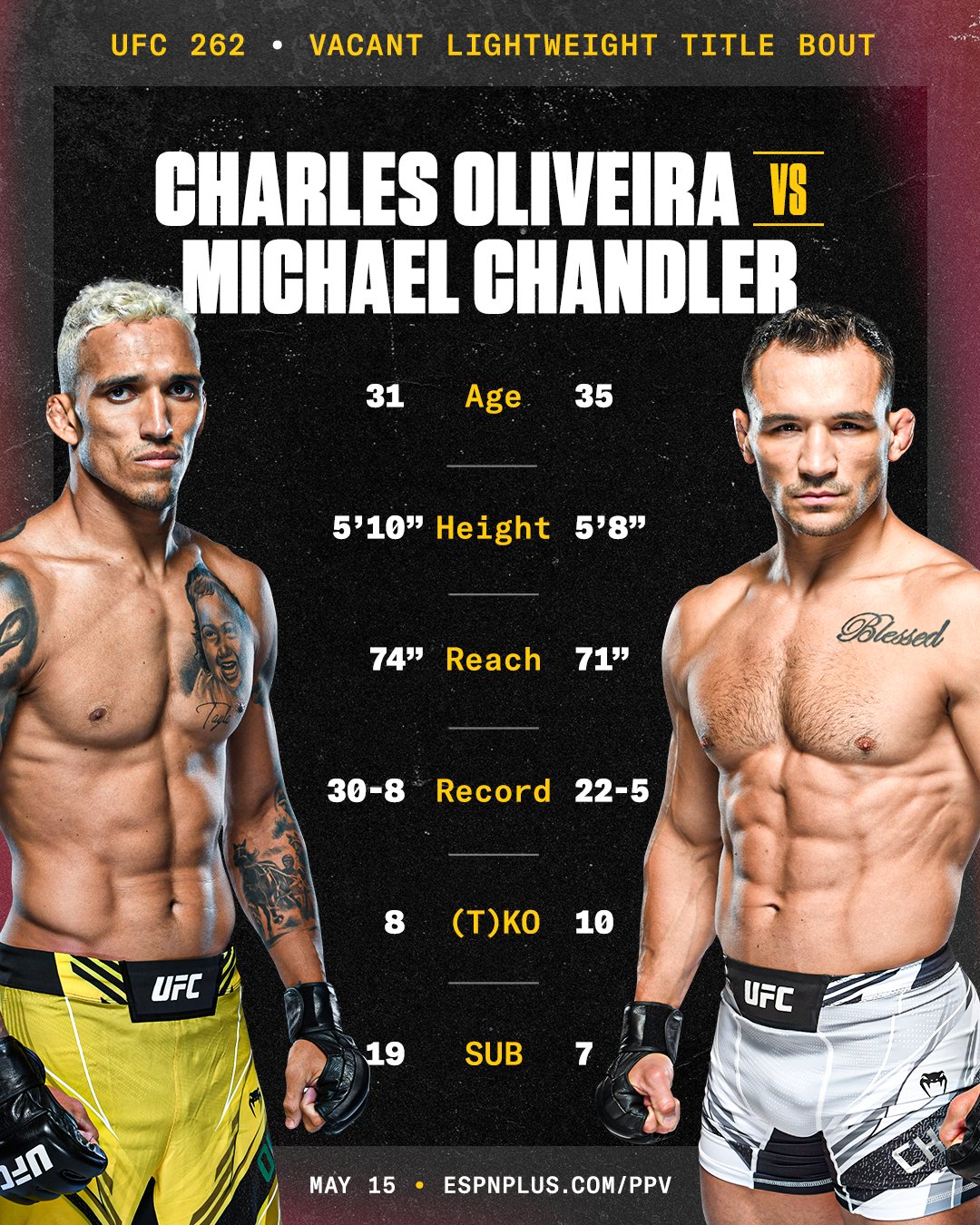 Tonight from the Toyota Center in Houston, Texas we have UFC 262 featuring a main event fight for the vacant Lightweight Championship of the world. Its one of the better stylistic matchups in the sport. we have #3 Charles Oliveira (-134) vs #4 Michael Chandler (+110) in a really really tough one to call.
Oliveira is much longer than Chandler, which could prove to be critical in this one. He should use his reach and will most likely be using his kicks more often than not. I can see him keeping Chandler at distance and kind of picking him apart from the outside, kind of like he did to Tony in his last fight. And when it gets too close, he'll threaten with his extremely dangerous guillotines and ground game. In a lot of areas, I see Oliveira beating him. But Chandler is gonna be really difficult to break due to his high level ability to wrestle. I would not be surprised if Chandler threw in some takedowns there and fakes some takedowns to set up the overhand right or that big left hook like he did to Dan Hooker. If I had to pick. Im taking Michael Chandler by 3rd round KO.. I think Chandler is going to go for some takedowns in the first round, get Oliveira thinking about the takedowns, then fake the takedowns in the 2nd and 3rd and eventually catch him on the chin.
Oliveira is going to have some success against Chandler, it's really a 50-50 toss up for me, but I believe Chandler can get the job done. Great way to make some money as a dog as well.
Should be a good one. Lets go.
It was an intense nose-to-nose face-off for @CharlesDoBronxs and @MikeChandlerMMA 👀

Stream #UFC262 Saturday on ESPN+ 🔜 https://t.co/DfzmV4wSCl pic.twitter.com/BLuieeNMbN

— ESPN MMA (@espnmma) May 14, 2021
Charles Oliveira's first UFC title shot didn't come overnight ⏳ #UFC262 pic.twitter.com/cjuBbOn5ms

— ESPN MMA (@espnmma) May 14, 2021
In the co main event we have a personable favorite of mine in #5 Tony Ferguson (+125) vs #9 Beneil Dariush (-152) in another massive Lightweight bout. I've never picked against Tony Ferguson. His back is against the wall in a major way after 2 losses in dominating fashion. This will be Dariush's biggest test to date no doubt and the biggest fight of his career. In this type of fight, Im gonna have to go with the up and comer taking over the vet whose back is against the wall. Don't get me wrong but I believe Dariush is just a little better at this point in their respective careers. This is going to be a WAR. There will be blood shed. And I think it's one of the better fights of the night. The crowd will be nuts for this one. Dariush in a close one, by split decision.
All business in the face-off between @TonyFergusonXT and @beneildariush 🕶

Stream #UFC262 Saturday on ESPN+ 🔜 https://t.co/DfzmV4wSCl pic.twitter.com/tayvQpvopW

— ESPN MMA (@espnmma) May 14, 2021
My fight to really look out for is #9 Shane Burgos vs #13 Edson Barboza in a very very high level Featherweight fight. I see Burgos finishing this one in the 2nd or 3rd round and this is the fight of the night. Really looking forward to seeing these two throw down in the cage.
I really like Matt Schnell and Viviane Araujo to round out the main card.
All in all this is a really underrated card imo. Its taken a hit with Diaz-Edwards and Hermansson-Edmen getting pushed to later dates, but this will still be a great card with some ROWDY fans in Houston, Texas.