3 World Championship fights. 15,000 fans back in the stands. Jacksonville, Florida. My god, what a scene this will be. For the first time in over a year, fans will be BACK in the stands, screaming, chanting, whatever they do, this will be a phenomenal addition to the viewing experience at home. I even mentioned in the podcast last night that it would be trippy to see fans back in the seats. Just a surreal moment that will happen.
BUT, we're not here to talk about the fans in the seats. We're here to talk about 3 world title fights going down.
First up is the rematch.
Welterweight champion Kamaru Usman (-375) vs #4 Jorge Masvidal (+285)-Welterweight championship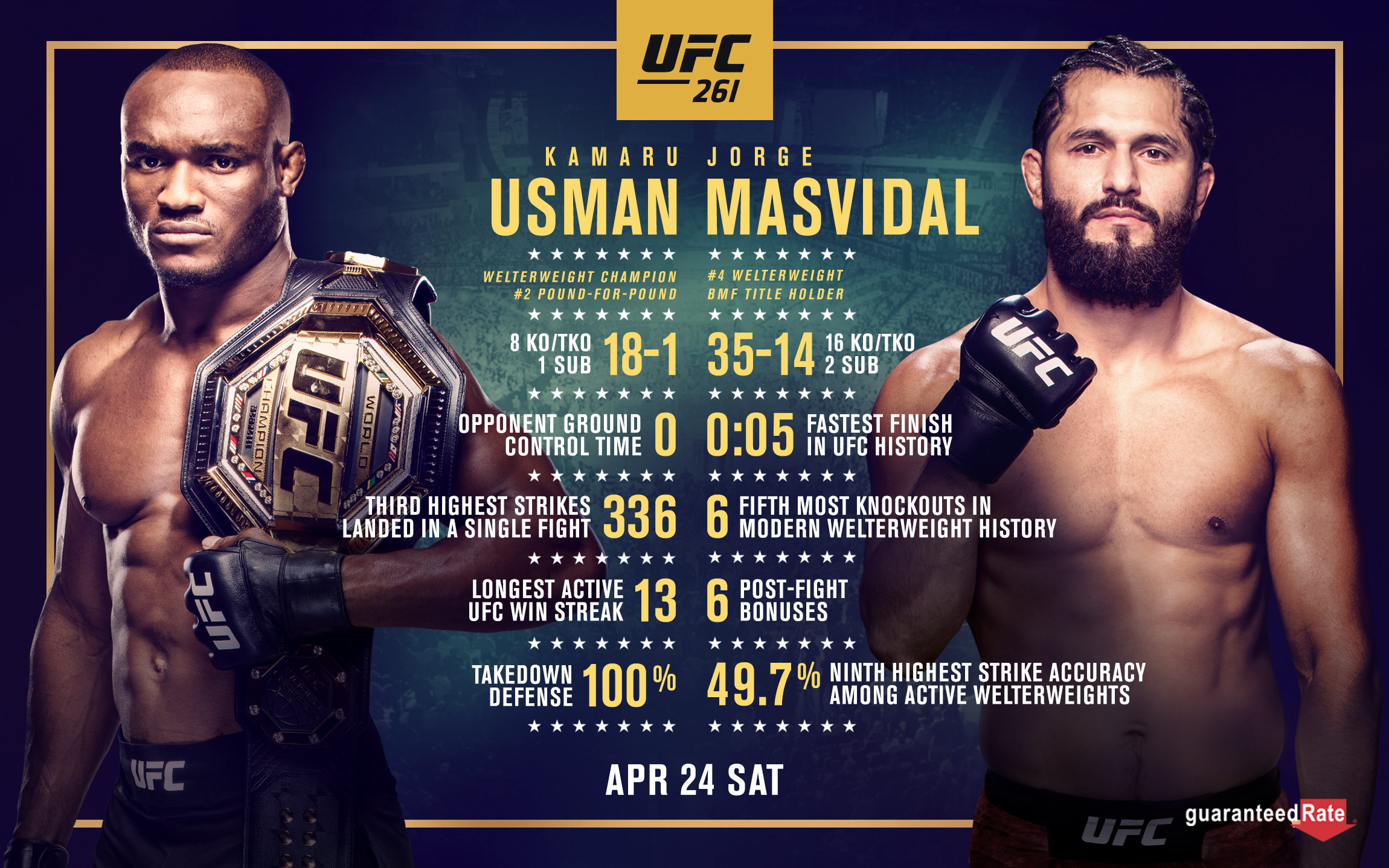 This is an interesting matchup. Of course the first time around, Usman dominated and won by UD. While Masvidal didn't look bad in the first round, he quickly lost gas and emptied his tank on 6 days notice. This time around we got a full camp from Masvidal. So that's what the buildup has been based off of. Usman has won 17 straight fights and is in the discussion for the GOAT Welterweight, drawing comparisons to Georges St-Pierre. -125 by decision sure seems like the logical play here. That being said, with so much animosity between the fighters, an early finish wouldn't surprise me. The opposite side of +240 for Usman "Inside the Distance" is a good option too if you are looking to make some cash.
Masvidal takedown defense is at a 75% rate, but up against the fence it's considerably better than that. And he's better at scrambling up from there as well. Masvidal has great elbows on breaks along the fence, and he's used his flying knees throughout his career. If he's aggressive with his takedown defense, I think he's going to be able to create windows of opportunity where he can hurt Usman. But I do believe in the end, Usman weathers a couple of storms and gets hurt while doing so, but ultimately will put enough damage on Masvidal to secure the victory.
In the co-main we have in my opinion, the fight of the night and the most anticipated women's fight in some time.
Strawweight Champion Weili Zhang (-200) vs #1 Rose Namajunas (+160)-Strawweight Championship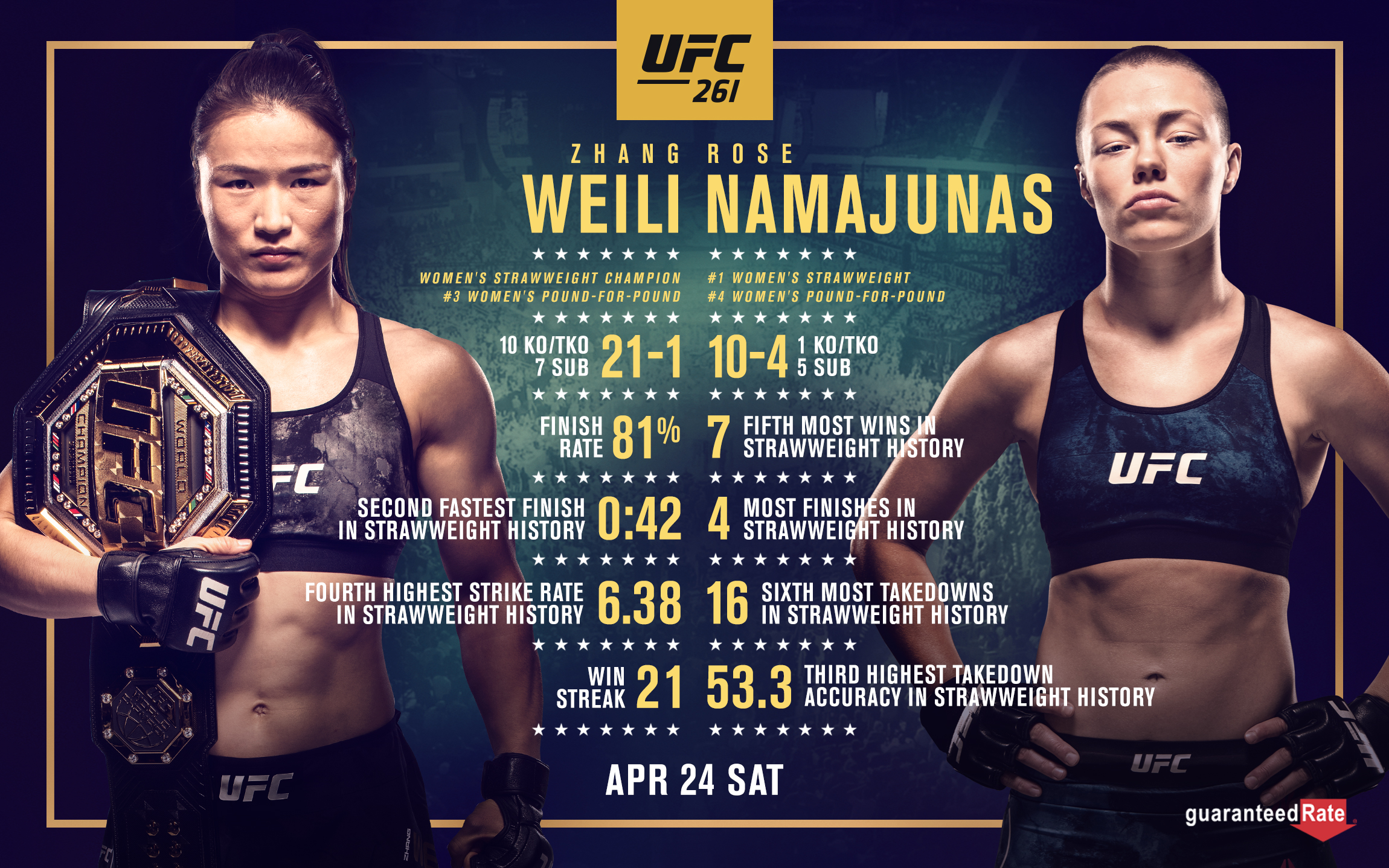 This is by far my my split down the middle fight for me. It's really hard to pick against someone like Weili who has won 21 straight and hasn't lost since her debut fight in 2013. That being said, Rose needs to manage the distance between them, which she did very well in her last fight against Andrade. What we've seen from Weili is that she can compete anywhere, but I do think Rose has a deeper skill set when it hits the floor, more so than Joanna. That head kick, stitching that onto the end of a combination will be very useful against Weili. I believe both women will come away battered in this one. I think the most obvious game plan for Rose is to mix in takedowns and look for subs, or at least try to use some wrestling to win some points, because I think the standup is going to be pretty even. It's going to be really close and come down to the wire. I think Rose shocks the world again and TKO's Weili in the 5th round to reclaim the world strawweight championship, and the crowd will go NUTS.
Now moving onto the first title fight of the night and the 3rd in this blog.
Flyweight champion Valentina Shevchenko (-500) vs #1 Jessica Andrade (+350)-Flyweight Championship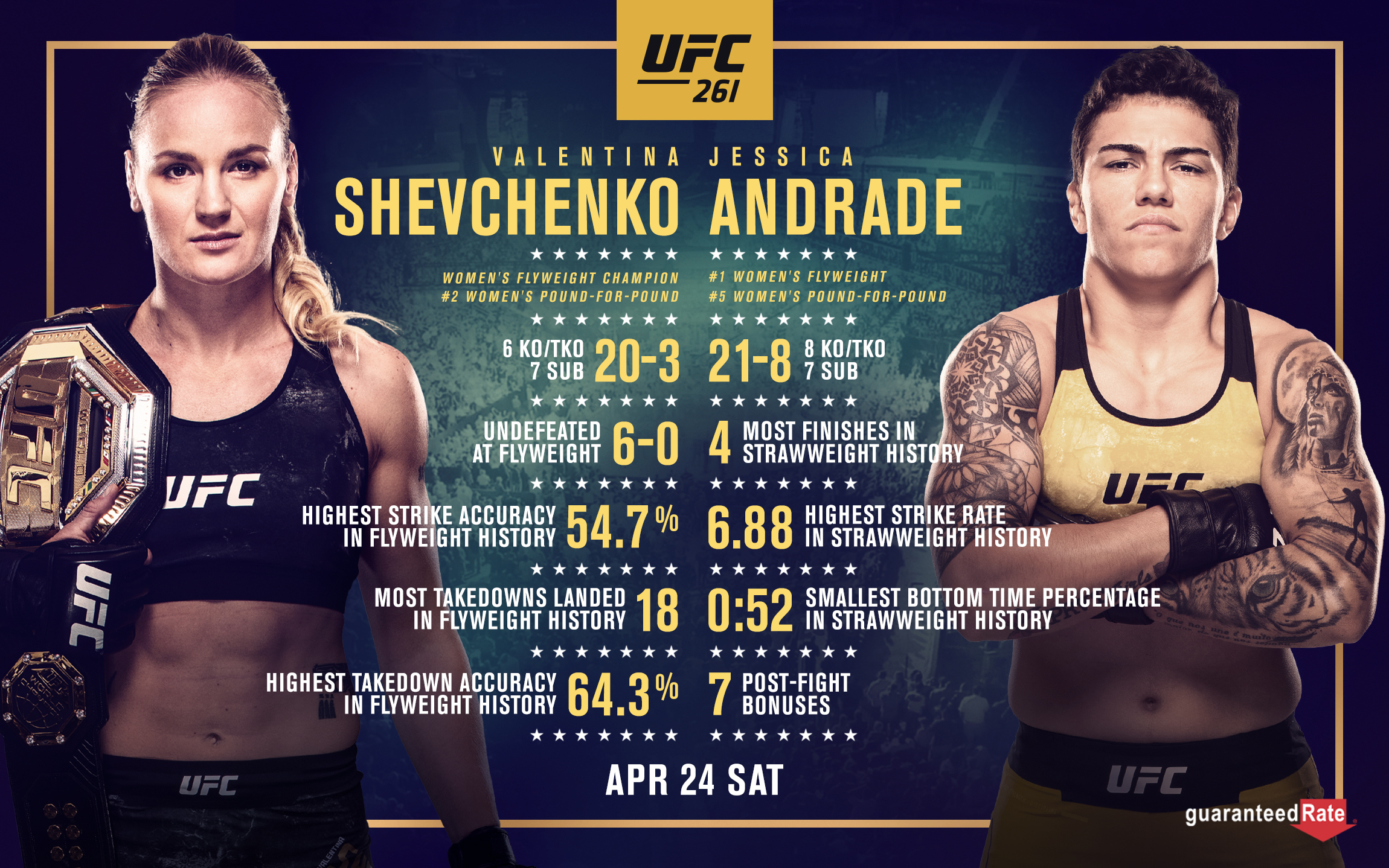 This title fight is an interesting one. Jessica Andrade is a BAD motherfucker and has some of the best knockout power in all of MMA. Andrade sitting at +350 in this one is a really good way to make some money. But, for me, its hard to pick against Valentina. Valentina has enough power and conditioning to hurt Jessica and hurt her bad. She won't be easy to take down. Andrade probably needs to take her down. Andrade is really good in some areas and very vulnerable in others, and there are certain matchups that are just a nightmare for her — and this is probably one of them. I expect another all time great performance from Valentina and I think she gets the finish here. It's going to be tough for Andrade to go five rounds without running into something big, and I believe Valentina will win this one via KO in the 3rd round.
The first 2 fights on the main card are spectacular match making from the UFC. In the Middleweight division you got #9 Uriah Hall (+105) vs #11 Chris Weidman (-125). I really really love Uriah Hall as an underdog here. I'm surprised Weidman is the favorite here. I think Hall's striking is going to outweigh Weidman's grappling here. I see him getting the finish in the 1st or 2nd round.
To open the main card is a light heavyweight bout between #6 Anthony Smith (+170) vs #13 Jimmy Crute (-210). I really love this fight for Crute. If you don't know much about MMA, Crute is one of the top up and coming prospects in the sport. At only 26 years old, he's 13th in the division and could make a major name for himself if he were to finish the former title challenger to open the main card in sold out arena. I expect him to do so. Crute by 1st round TKO.
Mac's 5 fight parlay: Usman, Namajunas, Shevchenko, Hall, and Crute. You can win a lot of dough if this hits. If you want to switch it up, of course go with Usman inside the distance, Valentina inside the distance. LETS WIN SOME MONEY BABY.
If you appreciate this blog, and want to know more about my in depth analysis, check out our preview show on our podcast. We will also be doing a recap pod breaking down the fights and what's next for the winners and losers. Give us a follow, a listen, subscribe!
https://linktr.ee/BrandedPlayground
Overall, this is setting up to be an all timer folks. The first card in over a year with a sold out crowd. 3 TITLE FIGHTS, 15K FANS, JACKSONVILLE, FL…LETS. GO.