UFC 260 is TONIGHT from the UFC Apex in Las Vegas, Nevada. We have one of the biggest (quite literally) rematches in UFC history.  We have the Heavyweight champion of the world Stipe Miocic (+110) defending the throne against #1 contender Francis Ngannou (-130). I just want to be upfront right now. There is NO WAY on this planet that Stipe Miocic should be the underdog in this fight. There is no one in this sport that is more disrespected than the heavyweight goat. Its asinine and mind boggling.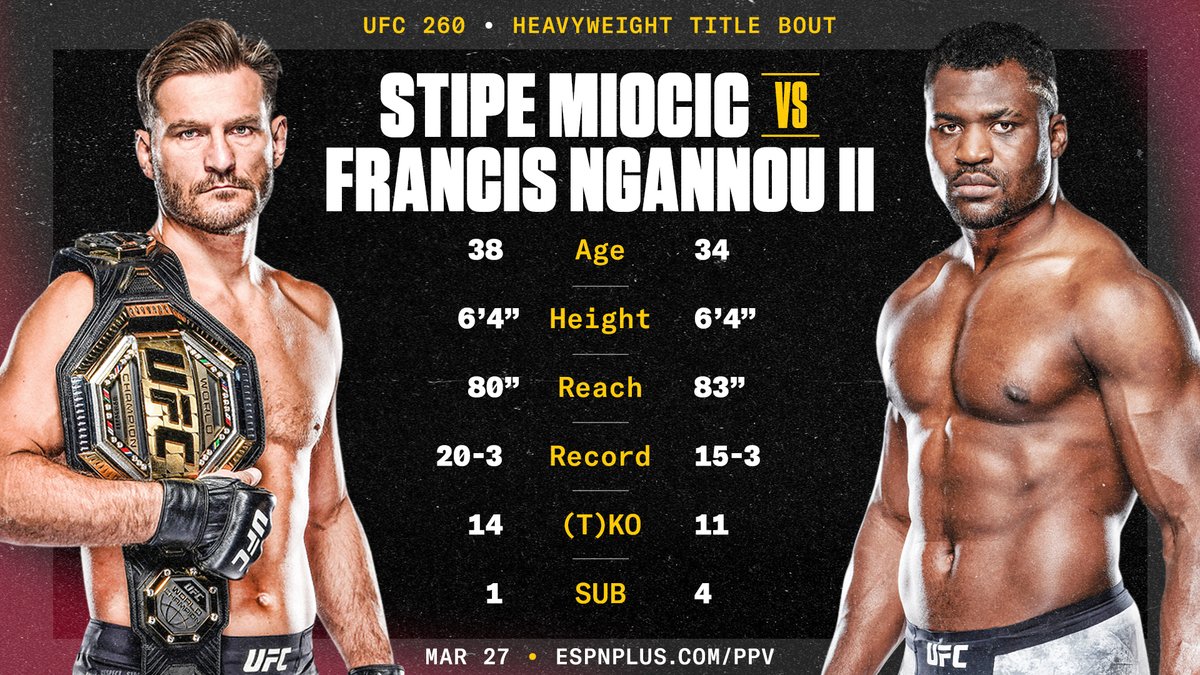 Now in terms of analyzing the fight. The first time they fought, i was there NBD, Stipe controlled most of the fight, although he did get hit a good amount of times, but never went down from Francis' power. If Stipe implements the same game plan as last time, wrestling, I believe he will win. If he doesn't, I believe he will get knocked out. If you take away Ngannou's power by wrestling him, you're going to beat him. He's a big guy. It takes a lot of muscle for him to move around and throw punches like he does. So the way im looking at it is, if this goes past the 1st round, this fight will really really favor Stipe big time. Thats a BIG IF tho. Francis Ngannou without a doubt has the most power this sport has ever seen. He is the Mike Tyson of MMA.
On the other hand, Stipe is 38 now, and Father Time catches everybody. It caught Daniel Cormier and Ngannou is 34. He's in his physical prime. So, if Ngannou can deal with the wrestling, it will be his fight to win without a doubt. I just have a hard time believing it. In Ngannou's last 4 fights the longest he has fought is 1:11. That is not enough time to prove that he has finessed his wrestling skills to stop the greatest heavyweight we've ever seen. I think the only way Francis can win this fight is if he bull rushes him out the gate and clips him. Its going to be absolute CHAOS folks. This fight alone is worth the PPV price.
Now for the co main event, we had an epic featherweight title fight between Alexander Volkanovski and Brian Ortega, but unfortunately that was cancelled due to the champ getting Covid. It puts a real dent in this card. Its a shame we'll have to wait a few months before we see these two go at it.
Slotted into the co main now is a welterweight bout between top 10 contenders. We have former champ #7 Tyron Woodley (+200) vs #10 Vincente Luque (-250). Im a fan of both, but I see Luque getting the job done by UD tonight. Im not quite sure that Woodley truly wants to be there anymore. He's lost 3 straight and I think he'll struggle against the uber talented Luque.
Now the middle fight on the PPV card is a really intriguing one. The SUGA SHOW is back folks. Sean O'Malley (-335) will face Thomas Almeida (+250) in a high level Bantamweight bout. I expect O'Malley to get the finish here in spectacular fashion and see him getting the 2nd rd KO. But dont underestimate the talented Almeida, a loser of 3 straight with his back against the wall. But, nonetheless i'll take one of the most entertaining fighters in the game, the 26 year old phenom Sean O'Malley.
All in all, these 3 fights are worth the price of admission alone. IM SO PUMPED. THE HEAVYWEIGHT CHAMPIONSHIP OF THE WORLD IS ON THE LINE FOLKS. IT DOESN'T GET ANY BIGGER THAN THIS.
LETS GO.