HERE.WE.GO. UFC 257 goes down in the Etihad Arena in Abu Dhabi where we will witness the return of the king, the biggest star MMA has ever seen and sports in general, #4 Conor McGregor will make his long awaited return to fight #2 Dustin Poirier in a Lightweight bout with major title implications on the line. Now I am a homegrown Bostonian with ancestors from Ireland, its my favorite country on the planet besides the US. Its one of the most magical places you can possibly visit. Im going to try and not be bias here. Im almost never bias when it comes to fights because I just have too much respect for these fighters.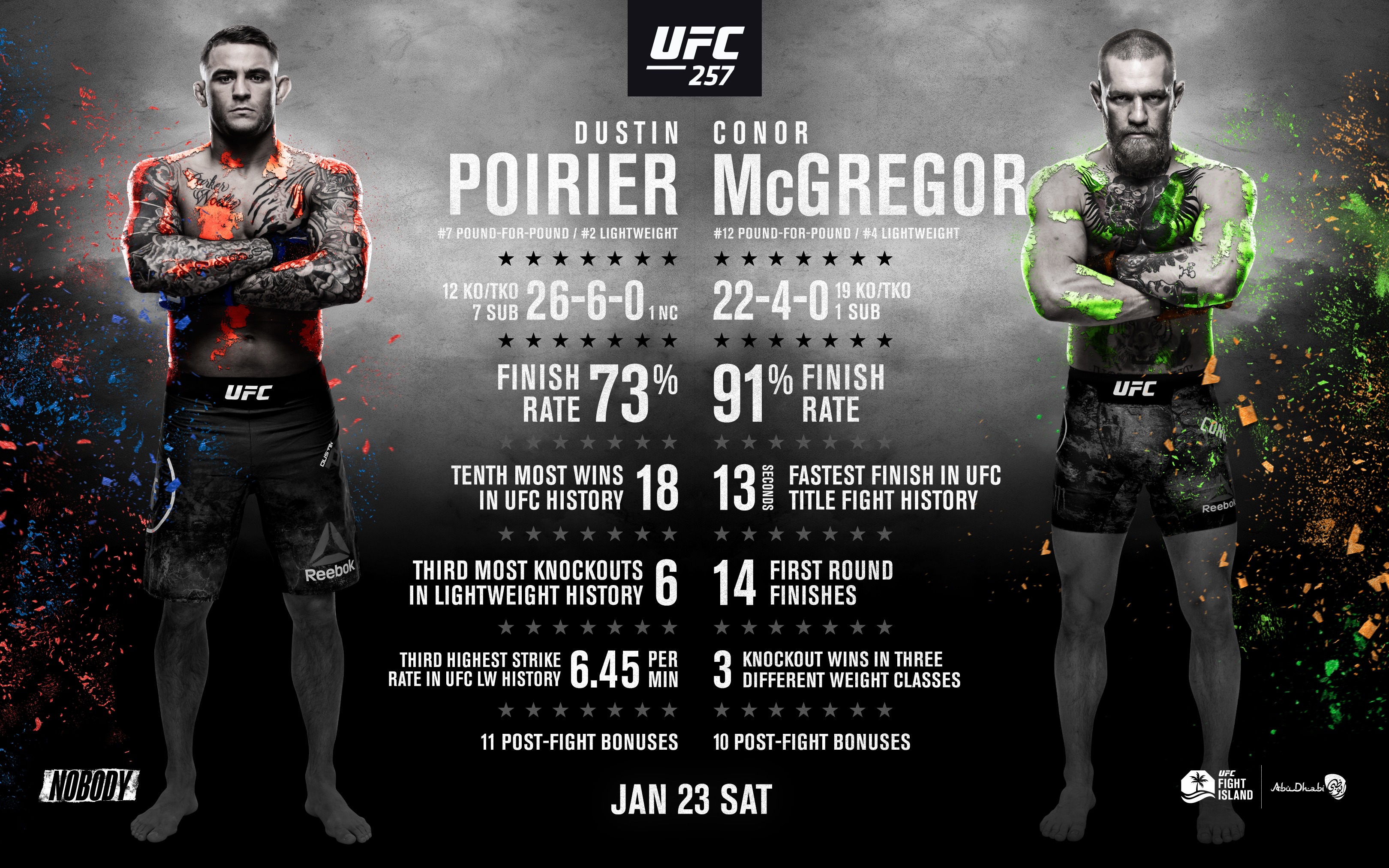 #4 Conor McGregor (-325) vs #2 Dustin Poirier (+250)-Lightweight bout
Let's break it down. Im not joking when I say a Conor McGregor fight week, to me, is bigger than the Super Bowl, especially when there are fans involved. There isn't anything in the history of sports that could compare to the aura of McGregor.
Now let me make it clear. The situation for these two going into their rematch could not be more different. They fought in 2014, they were both up and coming young bucks. They are completely different fighters and completely different individuals both personally and professional. But, the big question is has Dustin closed the gap between them? Is his skillset now equals to Conor where in 2014 it wasn't? We don't know. We don't know what Conor is going to look like.
If this fight goes into the 3rd, 4th, and 5th rounds Conor will be in SERIOUS trouble, and Poiriers team should be very confident if that is the case. I do believe Conor will needs to finish this one in the first 2 rounds if he wants to win this. Not saying that he can't go 5 rounds with Dustin, but if they do, the outcome does indeed favor a Dustin Poirier victory, someone that thrives going into the later rounds.
If you look at the last time they fought, Conor has improved. Dustin has improved, too. But where Dustin, in my opinion, has not improved is his defense. He still gets hit a lot. And that's why everybody loves Dustin because he gets in awesome fights. I'm a huge fan of Dustin; I love watching him. But he gets hit and you can't get hit by Conor McGregor, ya just can't.
From the other side of it, Conor looks and feels like a different more humbled and serious/mature Conor McGregor. A shaved head Conor is a DANGEROUS Conor. He and his team are smart and he has great coaches around him, including his head coach John Kavanaugh.
I don't think it'll be exactly like last time. I think this gets past the 1st round. I don't think Conor will just come out and finish him. Poiriers head coach Mike Brown and his team will have a plan ready to go, but I think Dustin is going to do Dustin things and he's going to get caught in an exchange and then he'll get finished. I see Dustin landing some shots on Conor, and vice versa in the 1st round. But man oh man, I can really see Conor McGregor finishing this one in the 2nd round by TKO.
Don't take watching Conor McGregor for granted. One day we'll look back and compare him to the Jordans, Ali's, Tyson's, Bradys, Tigers of the world and he might very well go down as the biggest draw this world has ever and will ever see. There is nothing like it.
Now for the co main event.
Michael Chandler (+115) vs #6 Dan Hooker (-145)-Lightweight bout
Now this is another HUGE fight with major title implications in the Lightweight division. Im more torn on this fight than I am the main event. Michael Chandler might not be as well known since he is a former bellator world champion and making his UFC Debut. But, I am here to say that Michael Chandler is capable of beating anyone in this division. He's going to come at Hooker and try to stand and maybe go for a few takedowns as well.
But people are forgetting about this BAAAAD man that is Dan Hooker. In my opinion, he has a better stand up game than Michael Chandler and I believe this is a fantastic stylistic matchup for Hooker. I think he can piece up Chandler and win this fight by decision. I do think this will be super close, and possibly fight of the night. Im going to go with Dan Hooker by Split Decision.
Other notable names to look out for on this PPV will be #6 Jessica Eye vs #7 Joanne Calderwood in a big flyweight bout in the women's division. I like Jessica Eye as the slight favorite in this one. #8 Marina Rodriguez will be taking on #10 Amanda Ribas in the women's Strawweight division, and im leaning towards Ribas as the heavy favorite here. #14 Brad Tavares will be taking on Antonio Carlos Junior, and im actually gonna lean towards ACJ as the slight underdog in this one at +105.
#7 Julianna Pena will be going against #9 Sara Mcmann in the women's bantamweight division, im excited for this and see Mcmann getting the W. #15 flyweight Amir Albazi will be the first fight of the night and i expect him to show us why he's in the top 15 flyweights in the world. And lets not forget about Khalil Rountree Jr. in the Light Heavyweight division, im very high on this man and expect him to get the job done to open to prelims.
OFFICIAL PARLAY: MAIN CARD: McGregor, Hooker, Eye, Ribas.
PRELIMS: ACJ, Arman, Rountree, McMann.
You can combine these, which would be insane. You can split these up, or you can even mix some of it together. But these are my picks.
ITS CONOR MCGREGOR VS DUSTIN POIRIER TIME FOLKS. LETS GO.