Gritty is the most popular NHL Mascot. There is no question about that winning the best mascot 2 years in a row. Standing at 7 feet tall with his fuzzy orange fur and beard. He is a true definition of an icon.
via: NHL.com
As we are all excited about hockey starting back up, there was a petition to get Gritty inside Wells Fargo Center for this season. With over 12,000 signatures and a plea from Gritty's BFF, Kevin Hayes, he was declared to be inside. Now, we all know that there are no fans in the stadium and Gritty is a highlight at the games to see what shenanigan's he gets himself in to. That doesn't mean that fans at home still won't get to see what he would be up to.
Gritty has his own section behind the benches. He is honestly living the life with a huge folding chair and a couch with a lamp just for him and Kevin.
                    via: inquirer.com
Now, we get into the good stuff. The season opener on Wednesday night, Gritty unveiled his 2021 resolutions.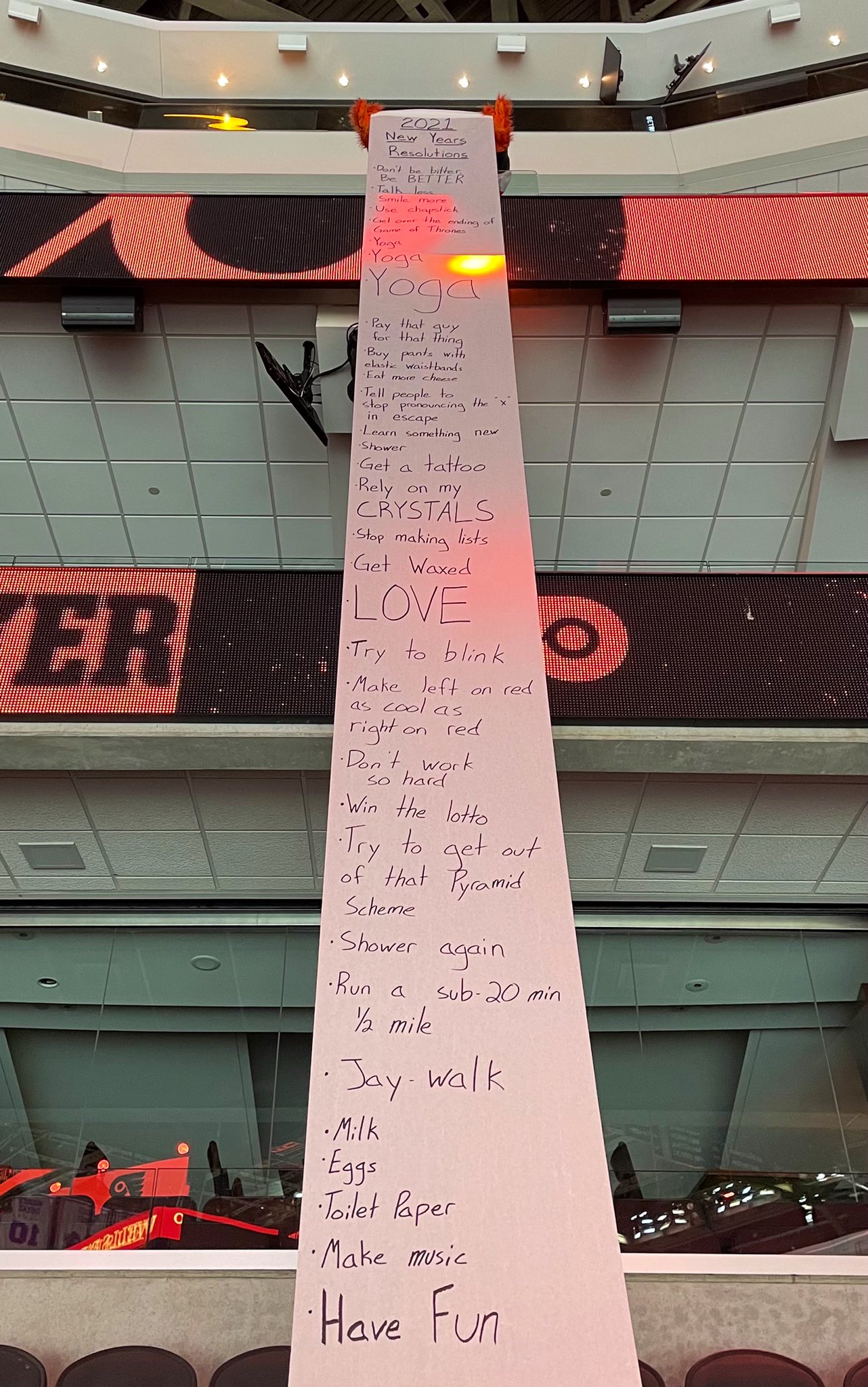 via: @GrittyNHL/Twitter
As you can see it is a pretty lengthy list but the second bullet first grabbed the eyes of Broadway as it is a quote from the famous musical, Hamilton, "Talk less, Smile More". This is the free advice Aaron Burr offers to Alexander Hamilton. I have seen the tour of the musical when it came to Philly 2 years ago and of course have watched it more than 10 times on Disney+. I truly believe Gritty would make an excellent King George since he is already the King in Philadelphia.
#TalkLessSmileMore https://t.co/xFFY1EXFTX

— Hamilton (@HamiltonMusical) January 15, 2021
As game two went underway on Friday night, Flyers got an early 3-0 lead and pictures of Gritty-naked started to surface. It wasn't until Gritty posted his audition tape for Ratatouille Musical. Choreography credits all to Gritty himself.
Broadway needs me. pic.twitter.com/tOpQCZrlJz

— Gritty (@GrittyNHL) January 16, 2021
All I could think was of Mean Girls, where Gretchen asks Karen what she is for Halloween and she says "I'm a mouse, duh". So did Gritty get the part? Of course he did! Who wouldn't hire Gritty. As Ratatouille the Musical all started on Tik Tok as a trend it is now turning into something much bigger as over 90 people including Tituss Burgess, Adam Lambert, and André De Shields premiered on January 1st as a benefit for the Actors Fund for Broadway. I am sure Gritty has streamed this musical and now wants in. Do you blame him? I would pay big bucks to see Gritty hitting the stage.
Hired ✅ https://t.co/PASUL5Uj3O

— Ratatouille Musical (@ratatousical) January 16, 2021
As for more Gritty content, stay tuned for Monday night against Buffalo.
-Kels
@whatkELSEisnew