I'll start by saying I'm an Eagles fan till the day I die. I've been a Birds fan all my life and will continue to cheer for them above all other teams. However, I've had a small place in my heart for the Buffalo Bills. In 2014 Penn State alum Terry Pegula laid his nuts on the table and bought the Buffalo Bills for $1.4 billion in cash…..fucking straight cash homie.
Side note: He also wrote a check for Penn State's ice hockey arena. A cool $102 million. Fucking baller! Respect the hell out of that man.
However, it goes deeper than 2014. Back in grade school all my friends were Dallas Cowboys fans. They all had their Cowboys starters jackets while I was rocking the Chicago Bulls jacket (yea I know what you're thinking, "What no Bills?" but I was a basketball kid). Anyway, I hated the Cowboys, as we all do, except Kmess. So I cheered for the Bills during the Super Bowl appearances. We all know what happened during that run (0-4), but now Bills Mafia is back in the running to redeem themselves.
The Buffalo Bills have been my "second" team for awhile. Their my AFC team, I've said that for the better part of my life. I will declare, if the Eagles play the Bills, you better believe I have my Eagles gear on. Now I know there are going to be haters out there saying I'm a bandwagon guy, but that is far from the truth. Still loyal to the Bird gang. Everyone has their second teams, If you say you don't, you're a liar. Example, my second teams after all Philly sports are Baltimore Orioles, Montreal Canadians, and Chicago Bulls (starter jacket was on point). If you want the story why they are my second teams, I'll do a quick rundown:
Orioles; Went to Camden yards a few times as a kid, loved the ballpark. Loved watching Cal Ripken Jr, thought we was a great player. My social club is called "The Orioles".
Canadians; Went there for a bachelor party. Toured the arena, fell in love with the city…..and the strip clubs.
Bulls; Michael Fucking Jordan….enough said. Also I loved Dennis Rodman for his rebounding abilities. I myself was a rebounder, average 12 rpg in high school. lead the league, nbd.
Even though they're my second team, this weekend I've been officially accepted into the Bills Mafia family from two sources. One a guy I used to work with (James):
and two David Portnoy. Here's how…..
It all started out so simply. I found this awesome tattoo on the world wide web.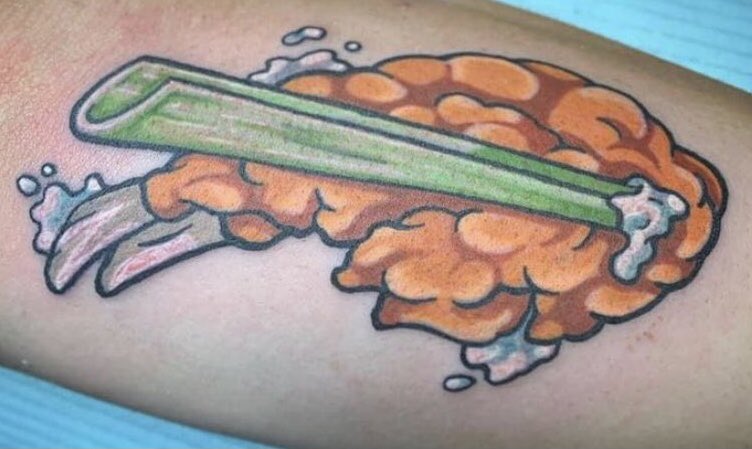 Pretty fucking sweet. Showed it to a few fellow Bills Mafia members, they agreed as well. So I thought to myself, this would make an awesome shirt, who better than to tweet this at the man of the Buffalo people, El Pres. So I fired off a tweet….
@stoolpresidente if you put this on a shirt, I'll take 10 #BillsMafia pic.twitter.com/AhjVEFJY0R

— Mike (@Philly1Mike) January 10, 2021
Me being the simple man, I thought to myself Dave wouldn't see it or care to look. He's a busy man saving businesses through the Barstool Fund, also he's in Miami on a hot date.
I'll tell you what. @voguemagazine is lucky im out to dinner with international superstar @anitta or else I'd come for their throats. So tomorrow it will be. pic.twitter.com/X4fbDsivMF

— Dave Portnoy (@stoolpresidente) January 10, 2021
Boy was I wrong. I looked at my twitter 5 minutes later and my notification blew the fuck up. First thing I thought "no fucking way"…..then I looked, yes fucking way.
On it! @welks303 Give this guy 10 freebies https://t.co/T2gAcz0P56

— Dave Portnoy (@stoolpresidente) January 10, 2021
With that tweet right there, I am officially in the Bills Mafia. You cannot argue against El Pres, he himself is a Bills Mafia member. I really hope they print the shirts, I will gladly accept 10 shirts on the house.
PS There are shirts for sale from the original artist. You can buy them here. I purchased one because I'm a loyal Bills Mafia member and support local artists but will be waiting on my Barstool shirts.
Go Bills!!