Gooooood morning fight fans, coming back at ya with yet another HUGE PPV event tonight from the UFC APEX in Las Vegas, Nevada. If you are you an avid reader of these preview blogs then you might be a little confused to see Deiveson Figueiredo as the headline of a second straight PPV. I can assure you that is not a joke, yes he headlined the last PPV 3 weeks ago and won in 2 mins and yes he's stepping in for canceled bouts to fight the number 1 contender Brandon Moreno.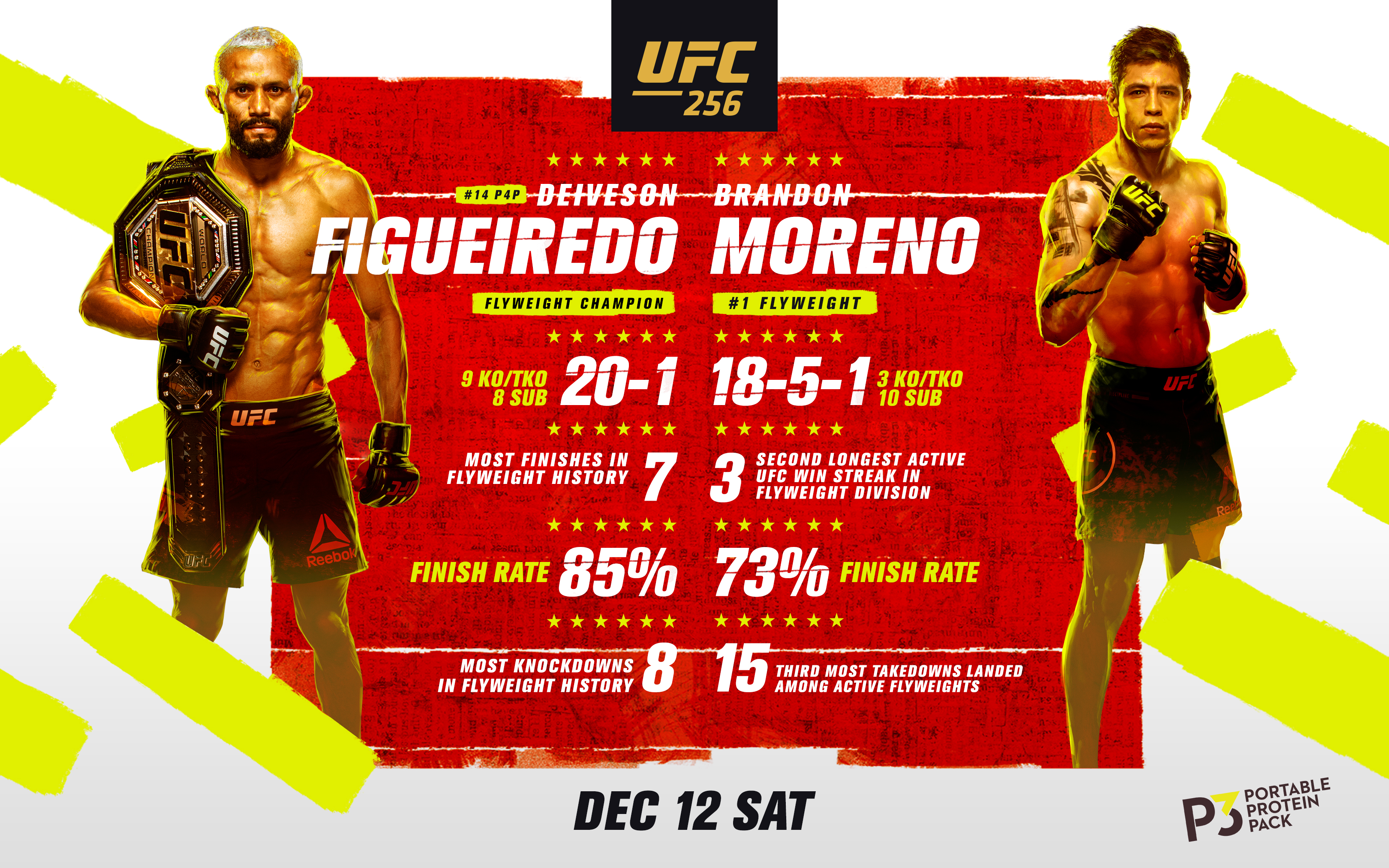 This main event will be for the Flyweight championship of the world.
The matchup: Deiveson Figueiredo (c) (-325) vs  #1 Brandon Moreno (+250)
I've gotta go with Figueiredo in this one. He's just too violent as a 125er  and he capitalizes on any mistakes you make. I think Moreno is a scrappy guy, that creates intense sequences. You can't do that with Figueiredo. You get in a bad spot with him, he finishes the fight. Until someone shows me they can deal with Figueiredo, I can't pick against him, he's just been too good up until this point in my eyes, he's dominated every title fight he's been in. I love watching Figueiredo fight. He's what the Flyweight division needs. He just runs through people. He doesn't just go to decisions every fight. I wouldn't be surprised if this one goes into the second or third rounds, because Moreno is scrappy and loose, but i do see Figueiredo finishing him before the 4th round.
Next up, the co main event. #3 Tony Ferguson (-170) vs #7 Charles Oliveira (+140)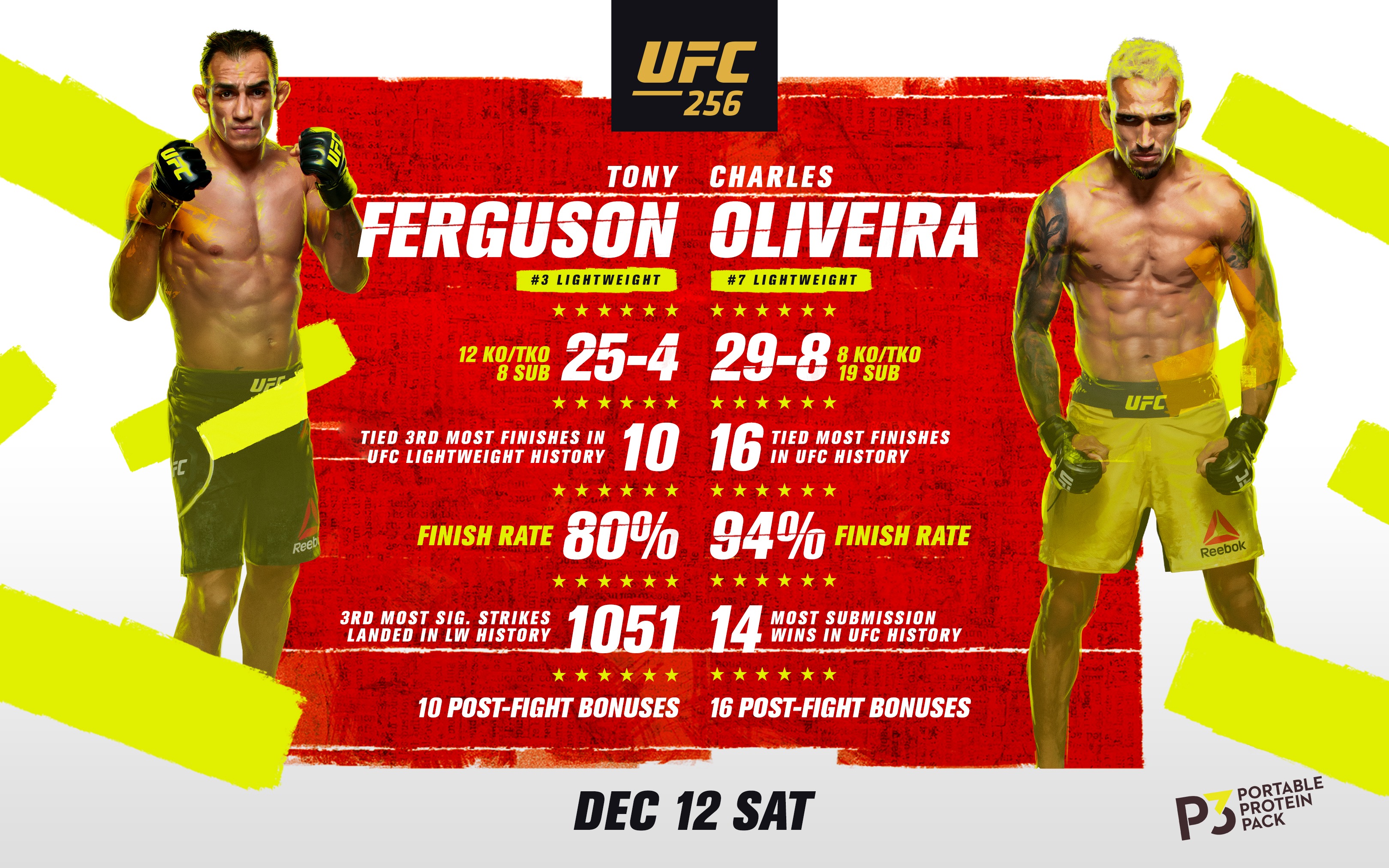 2 of the best Lightweights in the world will throw hands, in the peoples co main event, imo the fight of the night, because well Tony Ferguson is apart of this fight. I really wish this were 5 rounds. Ferguson, coming off a loss, I don't think we're gonna see him hungrier than he is now. He's trying to get better. When guys get like that, they're more dangerous. He's looking at the holes in the boat and trying to fill them. Tony is coming in, maybe he made some tweaks. I think he has all the skill to get rid of Oliveira in this one. I think Oliveira is not gonna be able to push the pace with Tony for three rounds.  He'll get Oliveira tired and catch him. I think Oliveira can certainly pull off the upset here, but I see Tony finishing this in the 2nd or 3rd rounds. Tony Ferguson can set himself up for a MAJOR fight with a win here.
The rest of the main card is fucking awesome as well. #11 Mackenzie Dern (-200) faces off against #13 Virna Jandiroba (+160) in a women's strawweight battle between 2 of the best female Jiu Jitsu specialists on the planet. I don't hate the underdog in this one, i think she could certainly surprise some folks. Dern, however, is a savage and i have a hard time betting against her. But im going to with Virna here.
Next up we have a middleweight bout between #15 Kevin Holland (-110) vs Jacare Souza (-120). This is a real tough one to call as well. Im going with Holland here, he's an up and coming stud facing off against one of the legends of game. This is a big step up in competition for Holland, riding a 4 fight win streak, I can see him getting the job done here. Im going to say Holland by Split Decision, in what is a real tough one to call.
And kicking off the main card in an ELECTRIC Heavyweight bout between #7 Junior Dos Santos (+325) facing off against rising prospect #14 Cyril Gane (-450) in what will be fireworks. I hate that JDS, a legend of the game is a +325 underdog here, the disrespect is not okay. However, this man Cyril Gane has been propped up as a future world champion. He's only 6-0 while JDS is 21-8. A big step up in competition. Will experience be a factor? It certainly can be. But from my research, from what i know, it seems like Gane is rightfully so the heavy favorite here. I see this being finished rather quickly. I love a good Heavyweight slugfest kicking off a PPV card. WOO!
Other fights to look out for on the prelims here is #10 Tecia Torres vs Sam Hughes, who is stepping in for Angela Hill on a week's notice making her UFC debut as a +400 underdog. Are we in for a rather large upset here? Unlikely, but dont count this bad betch out.
Im intrigued by every fight on this card, that's really not always the case. But man, when I look at this card, its top to bottom pretty electric. I love the Cub Swanson-Daniel Pineda fight, my guy Billy Quarantillo, who i love tonight as a -165 favorite. And don't forget about Rafael Fiziev, who is guaranteed to put on a show in the prelims.
Overall, this is a GREAT card tonight. UFC 256 is certainly going to cap off the 2020 UFC year with a bang. Lets. Go.