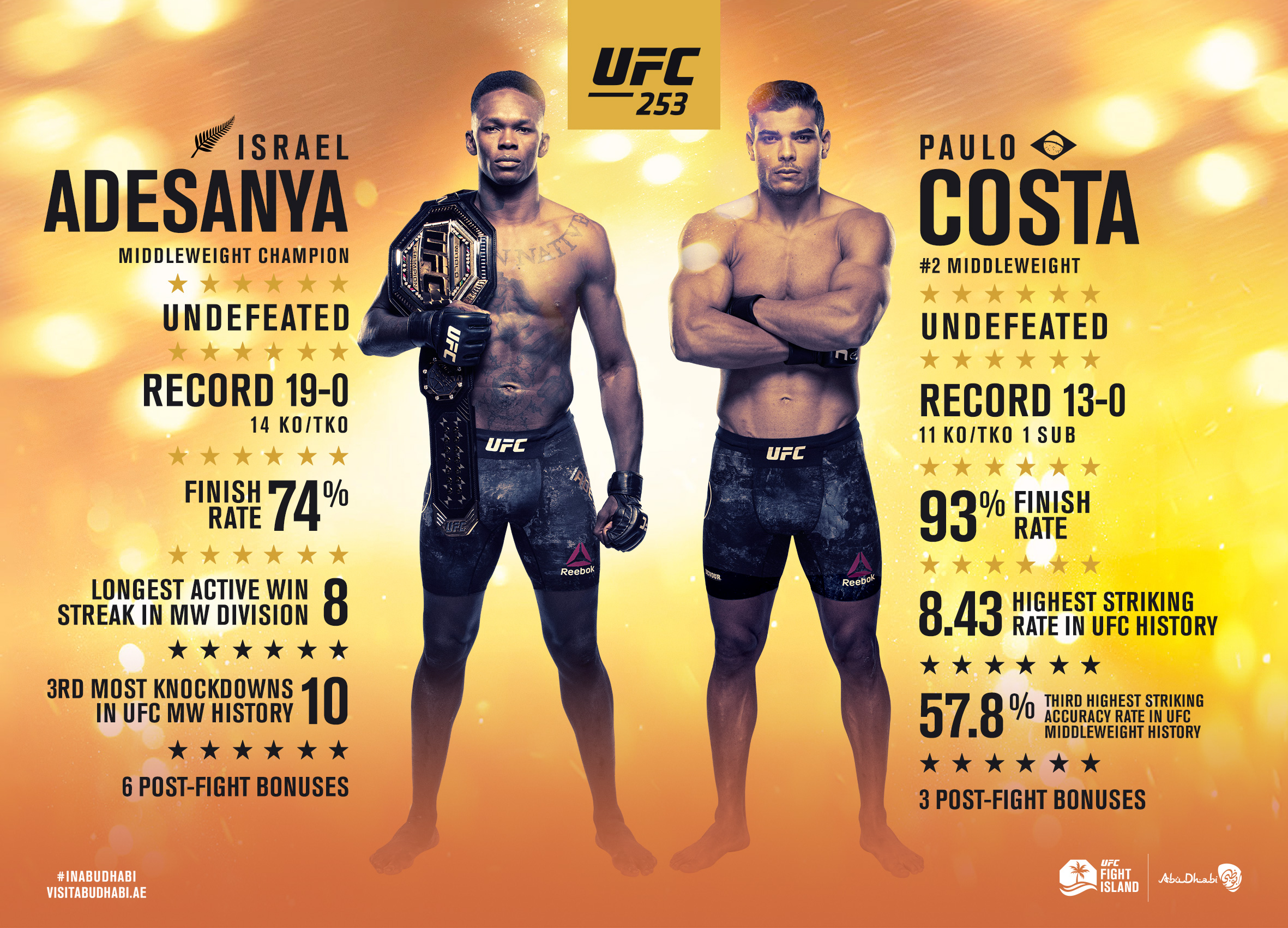 UFC 253 TONIGHT from Fight Island in Abu Dhabi! We have an unbelievably massive fight for the world Middleweight championship between 2 undefeated men who do not like eachother one bit. Israel "Stylebender" Adesanya will be defending his title against Brazilian powerhouse Paulo Costa.
Adesanya (-180) and Costa (+160) is an intense fight. This is one of the best stylistic matchups the UFC can put on.  It will be a very very aggressive fight, and Costa is going to come at Izzy with high level pressure to start this fight. Im not 100% convinced however, that Costa is going to be able to make it 5 rounds with Izzy. I see Costa's only chance at victory is by clipping him in the first round.  Physically, Costa is just such a beast. He's got power and endurance, and I'm curious to see if Adesanya can sway the fight the way he wants it and beat Costa that way, or if Costa just gets in there and makes up for it with aggression.
I see Adesanya being able to pick and choose his blows tonight. His technical striking is SO SO elite, one of the best we've ever seen in mma. We've seen Adesanya in trouble, we've seen him overcome it against the best in the UFC. He's been in these deep water before. Has Costa? The answer is no. And i think that's going to be the biggest difference maker here. I see Adesanya finishing Costa inside of 3 rounds.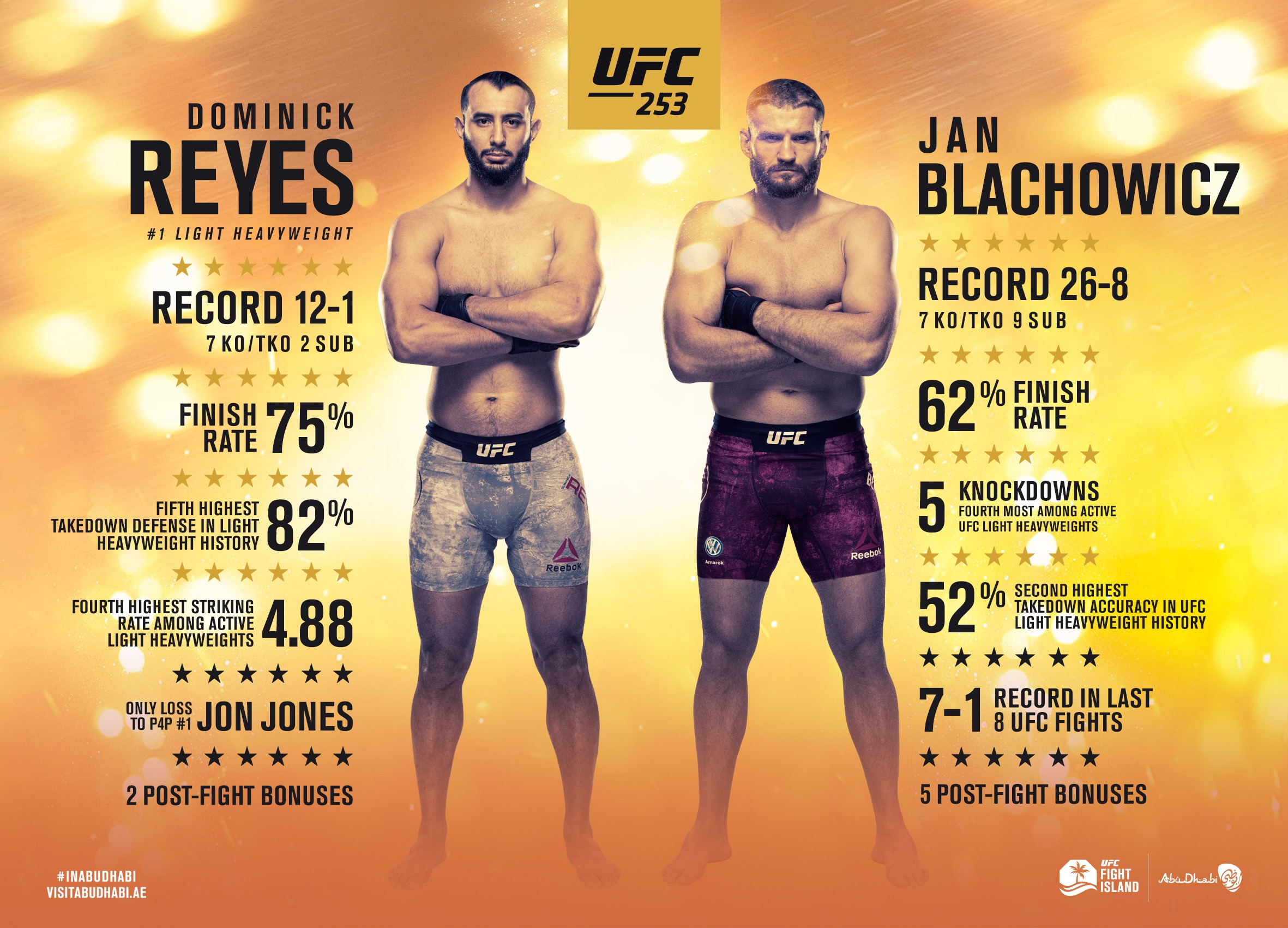 Another title fight. This one's a little different tho. Dominik Reyes (-270) vs Jan Blachowicz (+230) will be for the vacant Light Heavyweight championship of the world. This is the title that was vacated by Jon Jones. We havent had a Light Heavyweight champion outside of Jones and Daniel Cormier since 2011. Pretty remarkable stat. Reyes should be the heavy favorite going into tonight in my opinion. He looked phenomenal against Jon Jones in February and most say he won, but he didnt really beat the champ, so i got why he lost. He now has a huge chip on his shoulder and Jan Blachowicz is on a 3 fight win streak and has looked awesome in those fights all against top contenders.
I see Dominik Reyes getting the Win here via Decision.
Overall, the card is a little slow, but I think these cards usually turn out to be great. 2 title fights is enough for me to purchase the card and the main event itself will prob be worth the cash you drop for the PPV.
If you're interested in betting tonight here are some of my picks and a parlay. Im leaning off of Zubaira because he missed weight by 4 pounds and that usually spells trouble. But stay tuned for any updates on my Twitter tonight. I recently talked with Brandon Royval and Sijara Eubanks and i just cant believe they are both fighting back to back on a PPV. Some weird shit for me. I think they are both amazing underdogs tonight that get the W with the charm from Mac.
Overall, this will be a GREAT night of fights. Grab your booze, place your bets and have a great fucking time!