I saw a tweet from the official Chicago Bears Twitter account yesterday about the current standings of Pro Bowl voting.
Making GAINS! Thanks to the best fans out there! 🙏

Don't stop now – Keep voting #DaBears for #ProBowl.
✔️: https://t.co/T214N0tnGj pic.twitter.com/uh5JyQUHXL

— Chicago Bears (@ChicagoBears) November 28, 2018
This got me thinking…we can do better as Bears fans.
23 days ago, the good ol' US of A had midterm elections. Some of us went, some of us didn't.
Personally, I really don't give a shit if you voted or not. BUT, if you felt like you missed out and want to redeem yourself, the NFL has luckily made it easy AF to vote for our Bears.
So I'm calling on you, fellow Bears fans…GET OUT AND VOTE.
Wait…actually. I don't even need to say "get out." You see, unlike the actual election, it is WAYYY easier to vote for the Pro Bowl. You don't have to find the location for a polling center, you don't have to mail anything, there's no waiting in line and it's online. Basically, voting for the Pro Bowl is the complete opposite of everything we hate about the actual election.
So really, I should be saying: "Don't be a lazy piece of shit, pull out that phone or get on that computer, and VOTE." 
The best part? Somehow you can vote as many times as you like. Bored at work? Vote. Zoning out as your wife tells you about her friend drama? Vote. On the can? VOTE.
Wait, scratch that. The real best part is that the NFL doesn't hand out those stupid "I Voted" stickers. Don't take a selfie or a pic of yourself after you vote for the Pro Bowl, please.
Literally just vote for every Bear on the ballot. Khalil Mack and Eddie Jackson appear to be locks to get in as of right now, but just vote for every damn Bear on the ballot. I wanna see Bears helmets everywhere in this completely meaningless game.
(Actually, no. Ideally, our boys won't be playing in the game and will be getting ready for the Sup…nope, can't say it yet. But you know what I mean).
But ESPECIALLY vote for Akiem Hicks – this dude has been shafted for the past two seasons and is due.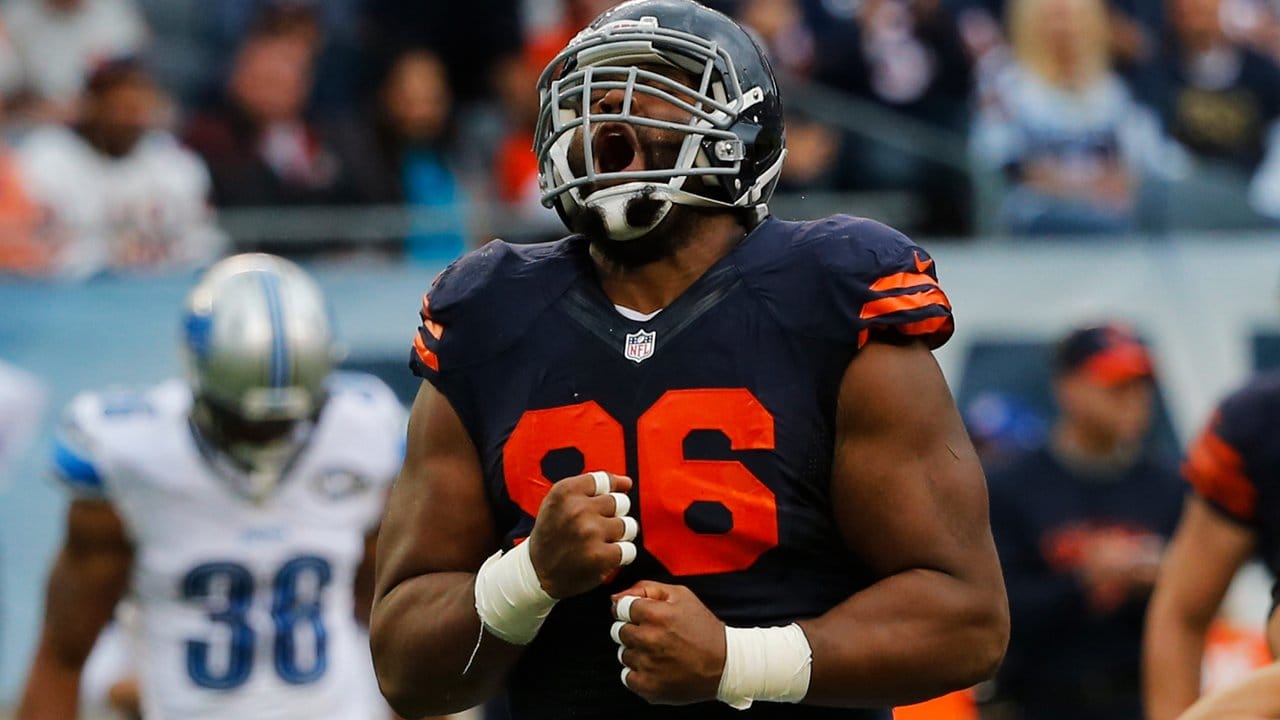 And why do I care so much? Because in case you didn't know, the Bears haven't had anyone voted to the Pro Bowl for the past 3 seasons – since, you know, they sucked and all. Even if this is the worst of the all star games in all of sports, let's just end that awful streak.
Let's go, Bears fans. It's your goddamn American NFL fan right to vote our boys to the Pro Bowl.
VOTE HERE (or literally every other link I dropped in on the word "vote" in this post. 
Oh, and buy this shirt on the Branded Sports Store.
-Kurbs
Follow us on Twitter @branded_sports and catch my Bears takes @ekurbyun
Featured Photo: Edited from For The Win